High-Quality Commercial HVAC Service Contractors Near Jackson MI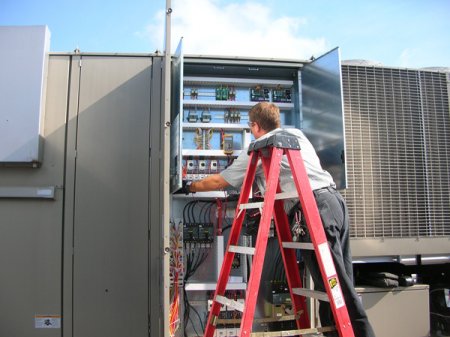 Your air conditioning equipment is one of the most critical pieces of hardware that your company depends upon, and a well-functioning and properly-maintained air conditioning system is vital for the ongoing operation of your place of business. At Stuart Mechanical, we understand the importance of having a commercial air conditioning contractor that you can rely upon for quality preventative maintenance, expert installation and quick, responsive emergency repair service.
Our services are performed by some of the most highly trained and experienced technicians in the business, ensuring that every job is completed right the first time, every time. From attending to small details and routine maintenance, to completing major repairs and installations, Stuart Mechanical provides the exceptional service your business demands, and the proactive attention it deserves.
Sales & Service
Installation
Controls Automation
Repair
Modify

Troubleshooting
Emergency Service
Preventative Maintenance
System Analysis
CSD-1 Compliance
---
Choose The Leading Commercial HVAC Service Contractors In Jackson
Choosing the right contractor to upgrade or replace your air conditioning system or install an entirely new system is critical. Air conditioning systems are complex pieces of equipment with tremendous variance in efficiency and performance, and professional guidance is required to help you select and install the proper system to meet the needs of your building and your business. Select an underpowered system and your business won't be able to achieve proper cooling; opt for a system that is too powerful and you may end up paying larger utility bills than is necessary.
Regular air conditioning system maintenance is the best way to keep your system functioning properly and extend its lifespan. At Stuart Mechanical, we can arrange ongoing service to ensure that your air conditioning system remains efficient both in function and in energy use. However, even with regular routine maintenance, you may arrive at your place of business one day to find that your commercial air conditioning system is in need of repairs.
---
"Matt is great to work with along with May and Jessica. Matt has immediate responses to my requests. Stuart Mechanical is a valued vendor to myself and the staff at Ari-El Enterprises."
- Jay Pollard
---
Stuart Mechanical is one of the top-rated Commercial HVAC Service Contractors in the Jackson area, and can help your company too! Contact us ASAP for a FREE estimate, and keep your building running cool all summer long with professional air conditioning service from Stuart's!