High-Quality Commercial Refrigeration Contractors In Southeast MI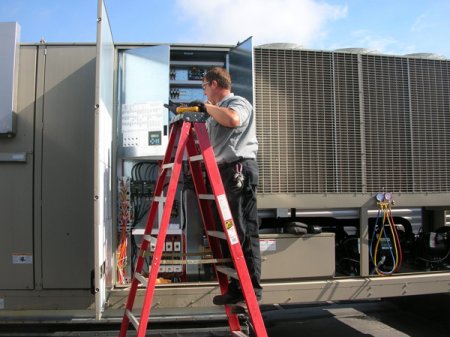 Your air conditioning equipment is one of the most critical pieces of hardware that your company depends upon, and a well-functioning and properly-maintained air conditioning system is vital for the ongoing operation of your place of business. At Stuart Mechanical, we understand the importance of having a commercial air conditioning contractor that you can rely upon for quality preventative maintenance, expert installation and quick, responsive emergency repair service.
Our team of technicians is highly trained with years of experience in commercial air conditioning repair, maintenance and installation, ensuring that all of our clients receive individualized attention with the highest-quality results. Our goal is ensuring that every air conditioning installation, maintenance and repair job that we complete is done correctly each and every time. From our headquarters in Auburn Hills, Stuart Mechanical is proud to serve businesses throughout the state of Michigan.
Stuart Mechanical provides comprehensive commercial and industrial mechanical services throughout Michigan, and our HVAC services include: sales, service, installation, building automation controls, design builds, and preventative maintenance.
---
Trust The Leading Commercial Refrigeration Contractors Throughout Southeast MI
At Stuart Mechanical, our team of technicians has years of experience and wide-ranging skill and knowledge in helping commercial customers of all kinds select the correct air conditioning system to meet their requirements. Moreover, our technical expertise helps ensure that our installation process can be completed quickly and efficiently while meeting your company's specific needs, minimizing costly business interruptions and avoiding any potential issues that can arise with less experienced air conditioning contractors.
Regular air conditioning system maintenance is the best way to keep your system functioning properly and extend its lifespan. At Stuart Mechanical, we can arrange ongoing service to ensure that your air conditioning system remains efficient both in function and in energy use. However, even with regular routine maintenance, you may arrive at your place of business one day to find that your commercial air conditioning system is in need of repairs.
---
"They are an excellent contractor to work with."
- Duane Berney
---
If you're looking for the leading Commercial Refrigeration Contractors throughout the greater Southeast MI area, there's only one name to trust - Stuart Mechanical! Contact us ASAP for a FREE estimate, and keep your building running cool all summer long with professional air conditioning service from Stuart's!